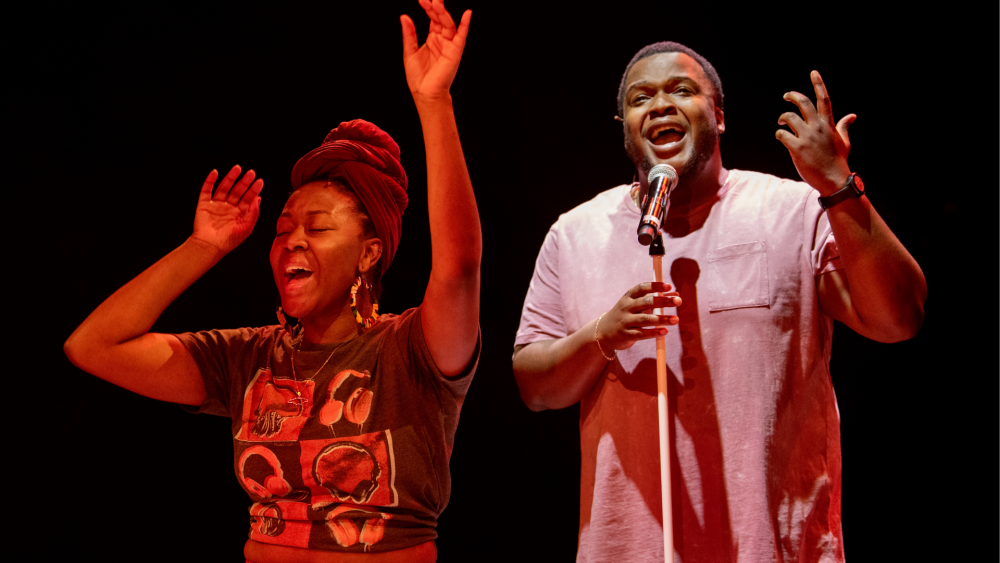 "I think this play truly explored the idea of love in its many forms and manifestations as well as the importance of intersectionality and the experiences of Black people. I loved watching how the siblings (Orion and Aurora) bonded over their parent's love and culture. Their different experiences as a Black man, Orion, and a Black woman, Aurora did cause them to operate in the the world differently which caused a rift between the two. But it shows the reality of sibling love, any type of love, there are some ups and downs. I got really emotional when I heard the snippets of different Black people mentioning what Black Love means to them and how it looks in their world. It was beautiful to hear about Black people loving one another in many forms and being spoken about in a loving and magical way."

- Olamide
"I absolutely loved this show, the music was amazing and so many topics were covered so perfectly! By far one of the best pieces of Black theatre I've seen in my life! My favourite part was the confetti which had the names of Black people who have been victims of horrible crimes. It such a creative way of celebrating them. Plus I loved the play so much I bought the book! Would go again 10/10"

- Felicia

"I really enjoyed the use of lighting and sound, the production team did an amazing job. The actors were also really good, they were able to convey emotions and messages really well through movement, speech and song. I think I'd rate it three stars because it was a great production but I like more fictional based theatre, e.g Lion King, but I really was happy I got the opportunity to watch this and experience something new."

- Amy

I got really emotional when I heard the snippets of different Black people mentioning what Black Love means to them and how it looks in their world.
Olamide
"I was amazed by this new theatre and gripping play at a local venue I had never been to before. The audience surrounded the stage from all angles, a unique experience that displayed how talented the actors were. The special effects were exciting and immersive, and I especially liked the confetti that rained down on us at the end with names written on it. The story was unique, and it felt much more relevant to real-life than other plays I have seen. I hope to go to this theatre again in the future now that I know how amazing the plays are there!"
- Ramune
"This show was an engaging and conscious performance showcasing the Black experience of love and culture. Its contemporary musical elements matched with its practical sound and lighting techniques captured my attention for the full 95 minutes. The humour had me and several audience members laughing with the jokes' relatability to the Black experience. I would recommend this play to anyone interested in content that represents Black culture."
- Dominic
"It was such a great play. I honestly didn't know what to expect but it exceeded my expectations. Definitely touched on my experience living as a young Black woman which I loved. There was a lot of dancing, singing and good music. It was good vibes. Very grateful to Arts Emergency for providing this opportunity as I wouldn't have gone to see it otherwise."
- Kimberly

---
Do you want to help young people access art and culture?
If you are a member of the Arts Emergency Network and would like to offer tickets for an event that you are organising please get involved with our Ruby Ticket scheme.