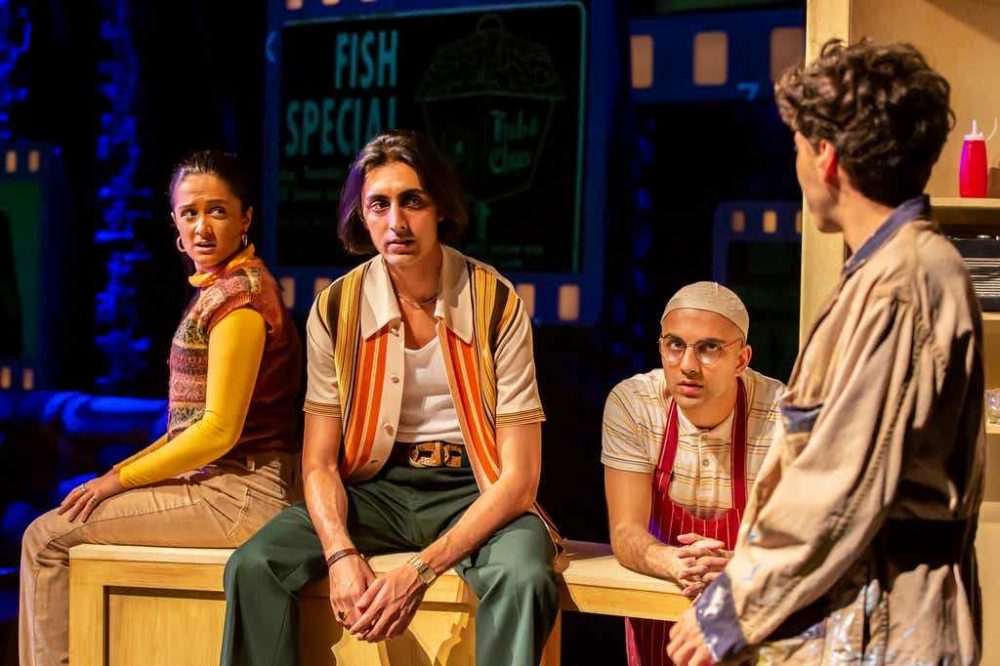 "I absolutely loved the play more than I thought I would. I went in completely blind as to what the show was about but came out surprised at how much the narrative hits home to many South-Asians like myself and their families. As soon as I got home I got my friend to order 5 tickets for herself and her family. Will definitely continue to recommend to others!"
- Munira

"East and East was a marvel! The shape-shifting set – colourful and exciting – created an environment fit for intimate and poignant performances. I felt so lucky to be somewhere in the middle of an audience, laughing together and crying together."
- Melissa

"Having seen the movie when I was very young, I had very vague memories of it. I was instantly amazed at the multicoloured, lively adaptation of East is East. The acting was terrific, the set design and music was exciting and unlike anything I had seen before. There were also more serious themes that were portrayed, making the show fun yet thought-provoking.

The venue at the National Theatre was spectacular, the staff were friendly, and I was happy to see everything in central seats with a splendid view. Definitely a memory I won't forget!"
- Ramune
As soon as I got home I got my friend to order 5 tickets for herself and her family. Will definitely continue to recommend to others!
Munira
"Having seen the cast line up and reviews from the run at the Birmingham Hippodrome which happened previous to the run at the National, I was extremely excited to see East is East.
The piece itself was an adaptation of the 1999 film by Ayub Khan-Din. Set in Salford we meet and follow the lives of a series of characters from the same family, a mixed-ethnicity British household headed by Pakistani father George (Tony Jayawardena) and an English mother, Ella (Sophie Stanton). Married for 25 years, the couple have six children and bring them up in 'the Pakistani way'. The play gave us an insight into the culture clashes and expectations of first and second generation immigrants in 1970's Northern England. With topics of arranged marriage for two of their sons and circumcision for the youngest, we recognise the efforts George makes to bring his children up as what he describes as 'good Pakistanis'. The way in which George chooses to run the family could be seen as an expression of his own individual identity crisis, moving away from home and life that was comfortable, moving to an area where he was an outcast. We see the character of George progress from humorous and humble to an abusive father and husband. Again, reflecting the discomfort he feels having to deal with changes whilst seeking acceptance from the wider community. Throughout the piece, we see George actively aware of a war happening back home against East and West Pakistani further disconnecting him from what he calls home.

The children are Sajit (Noah Manzoor), who is the youngest son of the family. He wears an old, ripped parker and refuses to take it off, he also has an obsessive-compulsive tick. There is then Tariq (Gurjeet Singh) and Abdul (Assad Zaman) who are the two sons George is arranging to marry. Whilst providing us with an insight of their lives these characters are coming to terms with the refusal of acceptance from the white community around them. We then meet Maneer (Joeravar Sangha) who is the most religious child of the family and then Saleem (Adonis Jenieco) who is an art student, quite different from the rest of his siblings. George and Ella have one daughter, Meenah (Amy-Leigh Hickman) who is loud and brings humour to the production. As well as meeting the children in the family, we meet Auntie Annie (Rachel Lumberg), the neighbour who we often see having tea meetings with Ella. They discuss the children and the family dynamics as well as home and the community around them. Like Meenah, Auntie Annie certainly brings humour to the forefront of East is East.

The set was a series of big screens in the style of 1970's televisions with images and videos of different visuals relating to each scene, from a fish and chip shop to the wars happening in Pakistan. Visually the production was pleasing, along with the 70's vibe and accurate costumes. Another thing I loved about the play was the soundtrack, it was composed by Felix Dubs. Mainly traditional Pakistani songs with a modern twist, making it a unique and thrilling soundtrack to actively support the play. Dubs has since released some of the soundtrack as an album which is worth checking out! It was exciting to see a mainly non-white cast on the stage at The National Theatre. The production was hilarious, heart-felt and entertaining. All in all I enjoyed the production of East is East and was delighted I got to see it.
- Chloe

---
Do you want to help young people access art and culture?
If you are a member of the Arts Emergency Network and would like to offer tickets for an event that you are organising please get involved with our Ruby Ticket scheme.