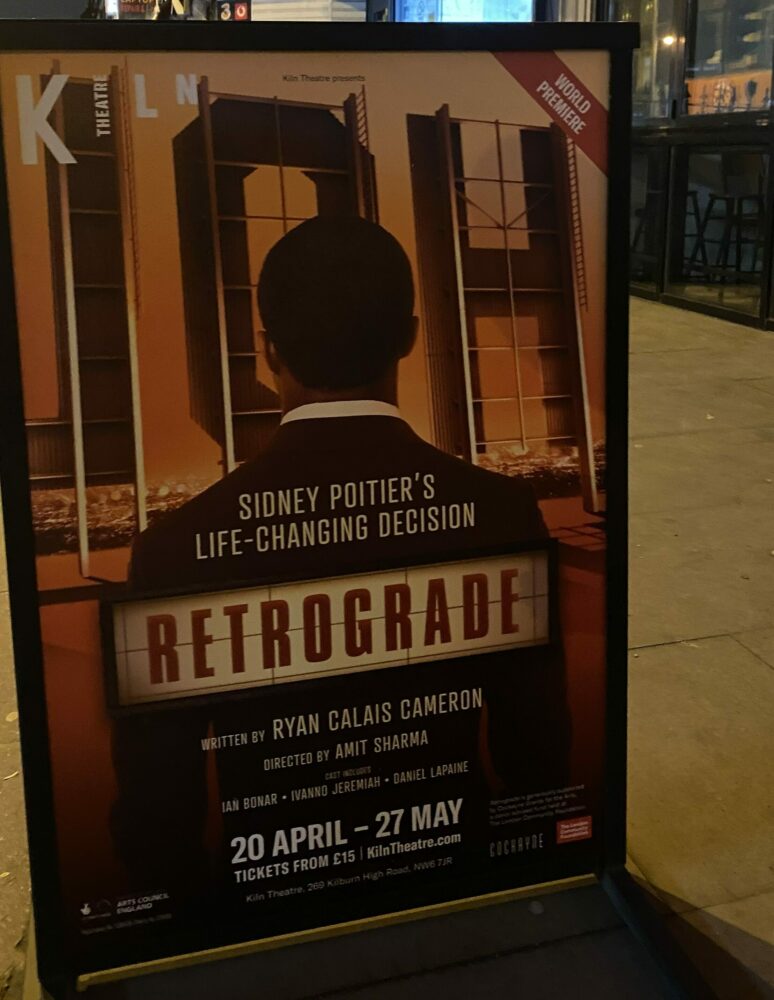 Retrograde is an explosive new play that explores identity, resilience, and integrity as it examines a true event in 1950's Hollywood and the reality of a Black actor's journey to stardom. Read what our Young Community thought below:

"I went to see Retrograde at the Kiln Theatre. Written by Ryan Calais Cameron, of the incredible 'For Black Boys who considered suicide when the hue gets too much', and directed by the Kiln Associate Director Amit Sharma, the show was told through its writing, directing, staging and acting. I loved how it played with a huge decision and subject matter in a small, hot space. Ivanno Jeremiah was sharp as Poitier, nailing the distinctive voice without veering into imitation as well as perfectly finding the impossible struggle within Poitier's talent-led ambition and his authenticity to himself and his people."
- Sam
"A phenomenal piece which details Sidney Poitier on the verge of becoming a superstar in Hollywood, but at what cost? We see how his strong beliefs in self identity drives his decision and an insight to this great man's personality."
- Gwent

Ivanno Jeremiah was sharp as Poitier, nailing the distinctive voice without veering into imitation
- Sam
"I thought Retrograde was very engaging. It touched on themes that I resonate with as a black actor and the extent to which we would like to stay true to our morals and beliefs without breaching a contract. It acted as a warning for me to always read the contracts of productions and an understanding that not all productions have people who value me and my beliefs.

The play itself managed to cover a broad range of themes and issues such as racism and communism with such a small cast and minimal set. This made me appreciate the script writing and opened my eyes to how powerful theatre can be and what it's able to achieve."

- Eden


"The Kiln Theatre was such a great place to be. Ivano Jeremiah, who played Sydney Poitier in Retrograde, gave an outstanding performance. At the end of the play, I had a happy tear in my eye. I highly recommend watching it."
- Shopna

Retrograde is on at the Kiln Theatre until 27 May.
---
Do you want to help young people access art and culture?
If you are a member of the Arts Emergency Network and would like to offer tickets for an event that you are organising please get involved with our Ruby Ticket scheme.