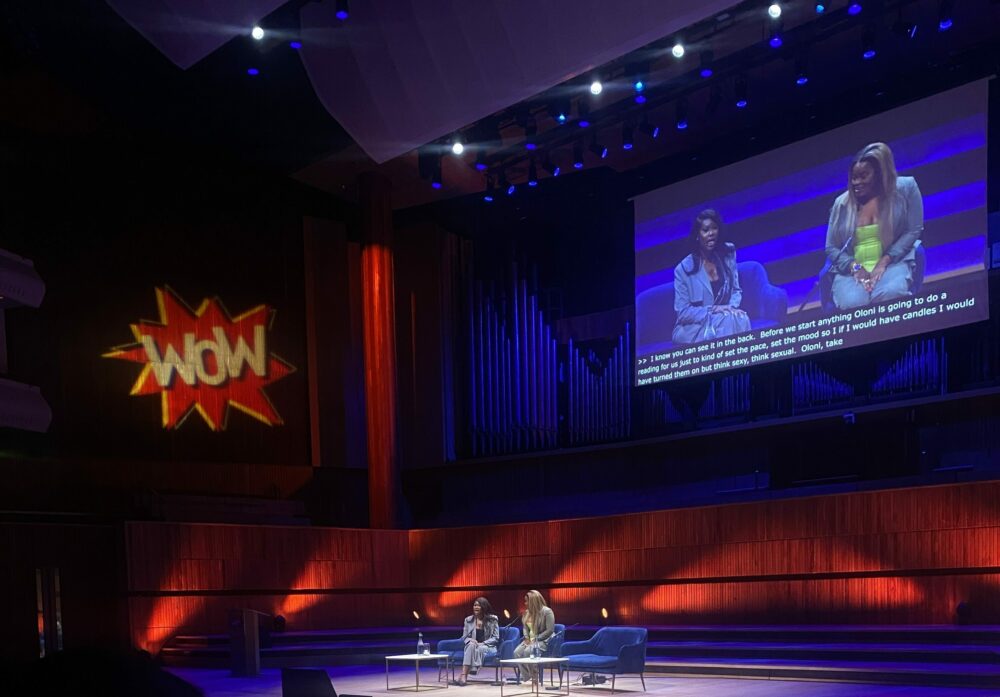 Kimberley and Denise attended The Big O with Oloni - a discussion about sex, love and relationships between sex educator and relationship advisor Oloni, Receipts host Tolani Shoneye, and actor and musician Jordan Stephens.

"I really enjoyed attending this talk. Hearing from two of my favourite people - Tolly and Oloni was truly inspirational. It's incredible hearing two black women speaking so openly about such 'taboo' topics.

I don't think I'm ever in a space to speak openly about these things so it was nice being in one for once. It really had me thinking a lot about my views in regard to these things, but also gave me the opportunity to learn new things and just hear about their experience. I wish that it was longer because I think Oloni had so much to say and would have just been great to hear lots more from her."

- Kimberley

It's incredible hearing two black women speaking so openly about such 'taboo' topics.
- Kimberley
"The Big O was amazing! It was greater than what I initially expected.

The knowledge of Oloni and her co-hosts was exceptional. It felt amazing being surrounded by like-minded people in the audience and it felt like a safe space for us all to share our experiences and opinions. Although it was predominantly women, many of us did express that we hope to see more men at these events to not only share their experiences but to hear from another perspective!

All in all, very educational, fun and light hearted! I would recommend those who haven't heard of Oloni to follow her socials and purchase her book, we could ALL learn a thing or two, regardless of age, gender, and sexual orientation."

- Denise



Hannah received a festival pass and enjoyed a day of WOW events.

"This was such a great event and was really nice to be in such a feminine and powerful space - I felt very lucky to be in the presence of so many influential women.
The event was well organised and had a great mix of free and paid for events, with activities for all ages: ranging from open jump rope classes to market stalls. Although I did find the space a bit too open and not very exciting, the people filling it brought such beautiful colour and liveliness that is awoke the brown, oak walls. The final talk really made me feel a part of something bigger, and left me feeling very inspired.
The location was very central and only a short walk away from Waterloo, so myself and my friend went to visit The Vaults to sit and reflect on what we had heard. One thing I think could be improved about the event, was if they had more evening sessions and small breakout sessions with an almost "speed dating" feel - as I feel lots of people really open up as the day stretches on and a reflective session at the end would be really effective. I also think it would be a great way of networking with each other, after all - the cause of the event is to celebrate and create change for women: and what are we without each other."
- Hannah
---
Do you want to help young people access art and culture?
If you are a member of the Arts Emergency Network and would like to offer tickets for an event that you are organising please get involved with our Ruby Ticket scheme.