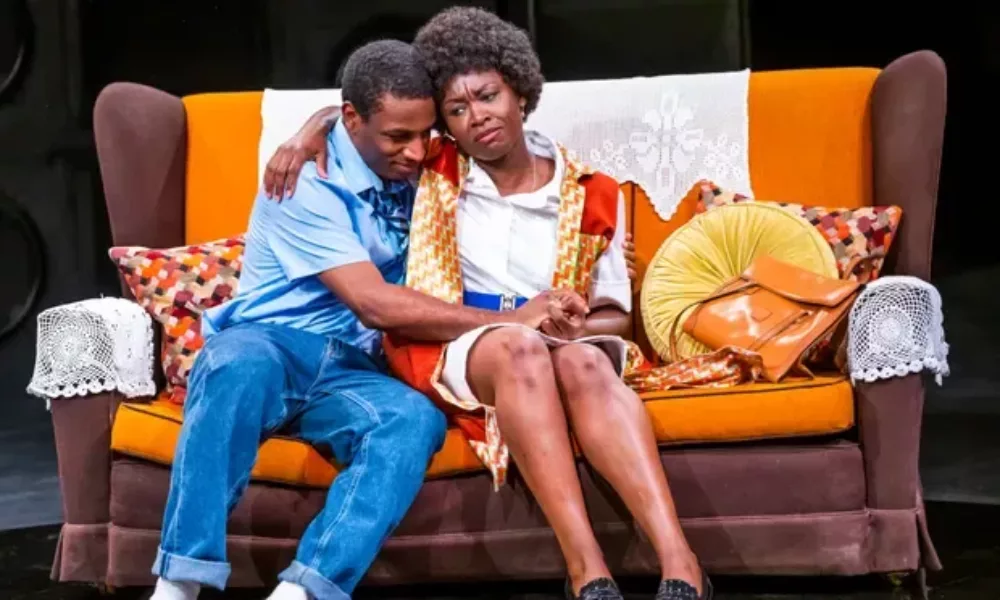 The Darkest Part of the Night was an intersectional story that follows a Dwight, a young black autistic boy and his family. Set in the North of England, the play presents us scenes from 1981 when Dwight was 11 years old before his autism was diagnosed and then present day where we see him disorientated with memories. Throughout we are exposed to the struggles and barriers the family are faced with such as Dad losing his job, the social care system failing Dwight and racism. Dwight's sister Shirley has always been visibly jealous of the attention paid to Dwight because of his additional needs and this fuels the panicle of the play. Shirley is supposed to be hanging out with Dwight but leaves him alone, he then leaves the house and wonders the streets which results in him being detained by the police under the Mental Health Act - this speaks to imperfections of the system in 1981 but also outlines police brutality against young black men.
The play has some gorgeous moments of love and warmth and presented a story I haven't seen much on stage before, that being said - I would've loved the story to be told solely from Dwight's perspective. Although each of the story lines are important to the story, at times it felt as though Dwight's story came from other characters and not him. To get it right, I think it begs the question of whether there were too many subjects explored however this also made it feel authentic, that a family could easily sink under multiple pretences. Overall, I enjoyed the play and the performances from the actors.
- Chloe


The play has some gorgeous moments of love and warmth and presented a story I haven't seen much on stage before
Chloe
The Darkest Part of the Night is something I would recommend everyone to watch, but especially if you grew up with black immigrant parents.
It is a performance about the struggle that being black in a country that is constantly looking for ways to put you down, about being different to others, but most importantly about family and coming together to overcome these adversities.

Despite its heavy subject matter, there are many instances where I found myself laughing at the accurate depictions of a black household, from the mannerisms to the facial expressions of the character, as well as their reactions to certain situations.

But most importantly, it didn't just make me laugh, but it made me cry, and it made me smile in the end.

The whole cast did an amazing job, there was not one actor who didn't absolutely blow me away at one moment or another but the performance given from Dwight's actor was phenomenal! He did an amazing job portraying the struggles that can come with communicating with others when having autism, and delivered an emotive and heartfelt performance. His relationship with his mother was most definitely the highlight to me - the compassion she gave him truly felt so impactful.

Overall, this was a wonderful play, in fact I think it is my new favourite!
- Micah

It was creative and I really enjoyed it
-Paula
---
Do you want to help young people access art and culture?
If you are a member of the Arts Emergency Network and would like to offer tickets for an event that you are organising please get involved with our Ruby Ticket scheme.