This week celebrities, Network members and even some former mentees took to social media to shout out the people who opened the doors for them when they were at the beginning of their career. Time and again we read how important support, encouragement and invitations are in a sector built on who-you-know networks.
The stories, thanks and praise opened up great discussions about the lack of opportunities, and the fact that many 'leg-ups' (funded arts programmes, higher education grants and the like) no longer exist - making it harder than ever for young people without connections.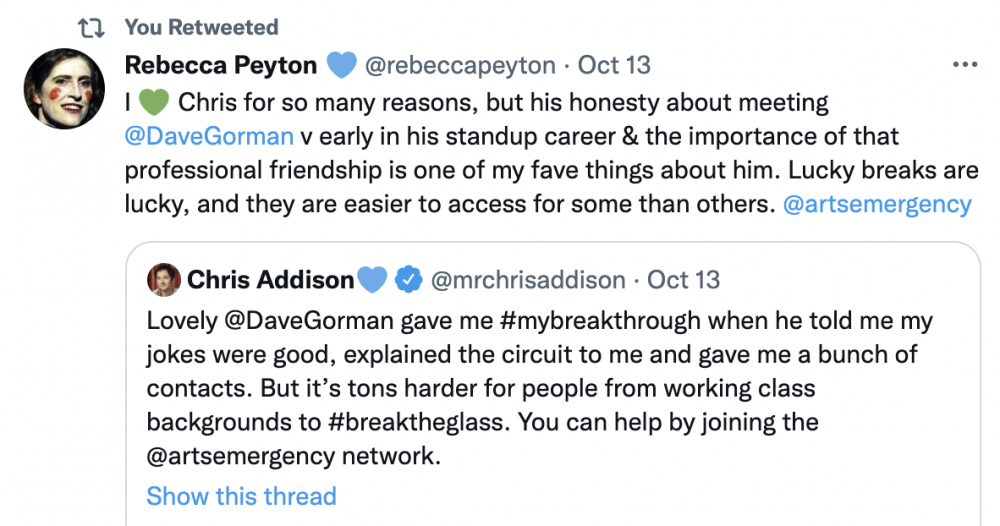 Both the heartwarming, inspiring stories of generosity and the tougher stories of solitary struggle and delayed starts gave us so much food for thought, and showed us - and we hope people reading along - how urgent it is for our work to continue to grow and reach more people who would otherwise lack access.
Arts and humanities take up has been dropping across GCSE, A-Level and university for the past ten years. The total number of humanities students at UK universities has fallen by around 40,000 over the last decade. Young people are seeing fewer and fewer open paths into the cultural sector. A creative career must seem further away than ever when debt, unpaid labour, and insider knowledge are still seen as prerequisites for entry.
The work we do to challenge this is vital, so if you can give £5 monthly to support our programmes, please do.