Group auditions are quite common. Many drama schools run a group audition for their first round. Those which do one-to-one auditions for the first round often have a group audition in the second round.
My best advice for group auditions is to remember that it's an audition. That means you are being considered at all times. Even when someone else is standing up and performing their monologue. The auditioners' eyes might still be on you. They want to see that you're a good team player and a supportive member of the company. So if you're not paying attention during someone else's monologue or song, they'll notice.
When it comes to your moment to perform, treat the rest of the auditionees in the group exactly as you would any other audience. You have performed in front of groups of people before; this is no different. I have had students tell me it helps to think of group auditions more as a sharing of where you are in your training. You're basically saying to the audition panel "this is where I am with my training; are you able to help me?" That takes some of the judgement out of the whole situation.
Listen to any instructions you're given. (It's easy to be distracted when it's a nerve wracking day.) If the panel wishes to have the monologues delivered above their heads rather than directly into their eyes, make sure you respect that.
Finally, it might seem obvious, but make sure you sleep the night before, eat and drink water before you go in. I've seen students faint after going into a strenuous dance and acting workshop because they haven't eaten anything all day.

---
Audition Fees and Processes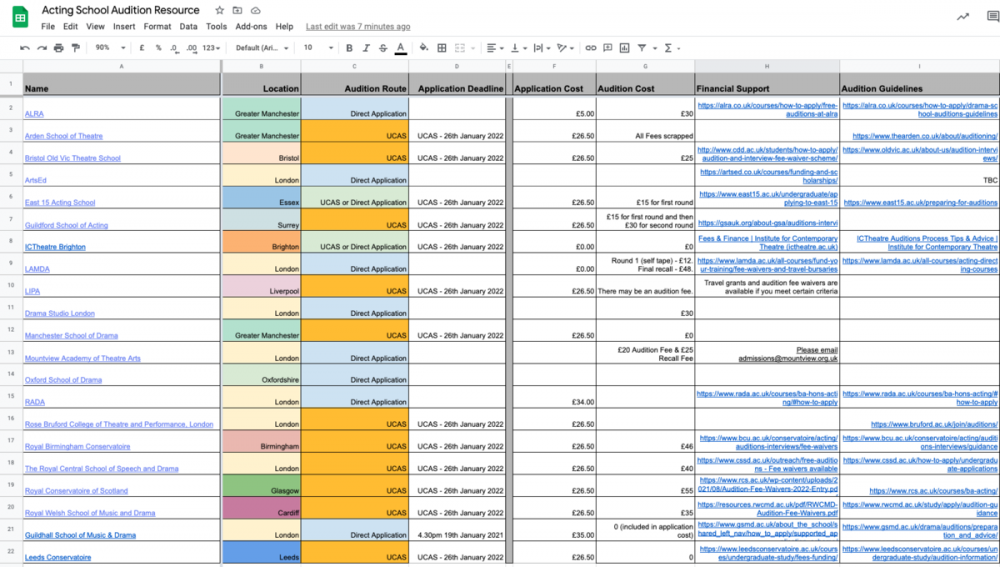 Audition costs, processes and expectations are different for every acting conservatoire so we've made a single place where you can find as much information as possible. We want you to know the real costs and where to get application and financial support so we researched their websites and created this resource that lists them all side by side.
Please note, no audition fee should be more that £70 all in. If you're not sure about an organisation check if they are registered with UCAS or Conservatoires UK.
Some information was not available at the time of creating the resource so the staff of the acting schools have been invited to make sure the information stays updated and is accurate even with the changes 2022-23 may bring. If you have any questions about missing info or further contacts please get in touch.